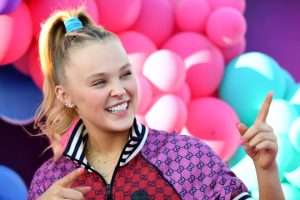 JoJo Siwa.
Excuse me?
Jojo Siwa.
Never heard of her.
JoJo Siwa.
How do you pronounce the name?
JoJo Siwa.
"Oh, my ten-year-old niece is crazy about her," my hairdresser says.
JoJo Siwa Comes Out.
Out? As in gay, out?
17-year-old JoJo Siwa Has a Girlfriend.
ARE YOU FUCKING KIDDING ME? WHO THE FUCK IS JOJO SIWA?
JoJo Siwa Says She's Never Been Happier Since Coming Out.
Unbelievable. I better google this kid.
JoJo Siwa is on Dancing With The Stars.
I thought that show was just for has-beens, not wanna-bees…
JoJo Siwa to be Part of First Same-sex Couple on DWTS.
Dayumm…I gotta see this. Even though I NEVER watch DWTS.
JoJo Siwa Talks About Importance of Being in First Same-sex Couple on DWTS.
Shit, she can dance! Like professionally, really dance!
JoJo Siwa Breaks Up With Girlfriend.
Already? Man that's tough, and in public. She's so young!
JoJo Siwa has a New Girlfriend.
Well, duh. Rich, famous, adorable.
JoJo Siwa Coming to Phoenix in January 2022
On tour? You've got to be kidding me. Gila River Arena is HUGE! This kid's a phenomenon. There's going to be a lot more lesbians in the future, folks.
And…according to AZCentral upcoming events:
"The Nickelodeon YouTuber recently won her third Kids' Choice Award for "Favorite Social Music Star." Her previous Choice Awards include "Favorite Viral Music Artist" in 2017 and "Favorite Musical YouTube Creator" in 2018. She's a singer, a dancer, an entrepreneur, a social media influencer and a New York Times bestselling author with more than 10.4 million subscribers and 2.6 billion views on YouTube."
Details: 7 p.m. Sunday, Jan. 23. Gila River Arena, 9400 W. Maryland Ave., Glendale. $44.50 and up.