May 22, 2013
I was driving to my morning class at Georgia State University on Nov. 27, 1978, when I heard on the radio that Harvey Milk, an openly gay politician, had been murdered in his office in the city hall of San Francisco, along with the mayor of that city. Even though I had never heard of Harvey Milk, my stomach wretched with shock. If they could get away with this in San Francisco, the gay mecca of America, what hope for survival did I have in Atlanta, Georgia, a far less accepting place?  I had just turned 19 and was in my first lesbian relationship. Harvey's death did not give me hope.
A few years later in 1984, I sat alone in the Variety Playhouse, a second rate movie theater in the bohemian Atlanta neighborhood known as Little Five Points. The Times of Harvey Milk was playing to a small audience there. It had just won the Academy Award for Best Documentary. Watching this moving masterpiece, I sobbed and sobbed and sobbed, and made a commitment to myself to be as out as I could. I went back and saw the movie several times; it was just astonishing to see a movie about a gay person in 1984. Framed this way, in this classic film, Harvey's death did give me hope.
Harvey Milk became my hero. In Atlanta, where Martin Luther King, Jr. is celebrated as the favorite son, Harvey Milk became my Martin Luther King. I followed the story of Harvey Milk closely after that, rejoicing when Dan White – his confirmed assassin- committed suicide. And when I learned in 2006, that Gus Van Zant was planning to shoot a film about Harvey Milk starring Sean Penn as the lead, I dared to hope that times were finally changing. Watching Milk in 2008, in a much larger movie theater with a packed audience,  I sobbed and sobbed again, overcome with sorrow and gratitude for this man. The life and death of Harvey Milk are both profound to me.
Birthday Party in the Castro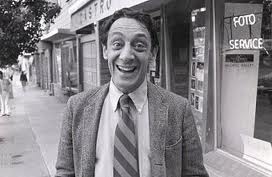 I live in San Francisco now, in no small part because of Harvey Milk and the impression he made on me. May 22 is Harvey Milk Day here in San Francisco. This date is Harvey's birthday and is wildly celebrated in the Castro. Perhaps someday it will be a national holiday like Martin Luther King's birthday is now. On May 22, I strolled through the Castro, where the streets were already lined with gigantic gay flags in preparation for the upcoming Gay Pride celebration in late June. (I've noticed that Market street all the way to the Financial District is adorned with hundreds these oversized rainbow ornaments – welcome to San Francisco!)
The Castro was crowded today with young gay men and women, straight couples and older gays who might have known Harvey, residents and tourists, dogs and baby strollers. The gay marching band performed at the intersection of Market and Castro throughout the day. Demonstrations and celebrations were on every corner.
Even the Human Rights Campaign headquarters (HRC) was picketed by demonstrators for its approval rating of Hyatt as a business that supports gay rights. Apparently, Hyatt is not deserving of the 100% approval rating that HRC gave them (allegedly in return for donations).  The HRC headquarters is located in the same storefront that was Harvey's "Castro Camera" and the headquarters for Harvey's political campaign – the birthplace of gay rights in America.
Dance with Me
A young woman, maybe 18 or 19 years old, danced on the rooftop outside her apartment overlooking Castro Street. Music played loudly inside her apartment and could be heard on the street below through the open windows. No doubt she was high as a kite but she was a lovely vision, a throwback to another time. She had long dark hair and wore aviator sunglasses, a tank top, the exact same kind of running shorts that were popular in the 70s (think Prefontaine). She wore knee high leather boots and somehow, she made this all come together in a youthful fashion statement – freedom, celebration, life. She was literally and figuratively higher than the rest of us and she pointed at passersby to include them in her dance. It was simply assertive and elegant. She pointed at me and I pointed back – I see you and you are beautiful.
GLBT Museum
Next I stopped into the GLBT history museum, which was having free admission in honor of Harvey. Every establishment was having some sort of Harvey Milk birthday event or window display:
Free Birthday cake at the bar called "Harvey's"
Shopkeepers hosting special sales stood in open doorways and wished customers "Happy Harvey Milk Day!"
A lovely photograph of Harvey with birthday balloons and a banner that read "Happy Birthday Harvey" was outside the post office. Yes, the United States Post Office.
The GLBT museum is small but today it was packed with people in the Castro to celebrate Harvey. Of course, there was a special Harvey Milk exhibit. A large screen in the back showed video footage of Harvey making speeches, so Harvey was literally here, larger than life. The exhibit included the actual table from Harvey's kitchen in the Castro apartment, the one where he made the tape about the end of his life.  His bullhorn, and sunglasses, and blue jeans. Small things, but all things that Harvey had actually touched.
At the museum, there was also a small display that showed two women's pant suits on mannequins, quite undistinguished, and yet they looked vaguely familiar to me. The curator explained that these were the actual pant suits worn by Phylis Lyon and Del Martin when they were the first couple married in San Francisco (after 53 years as a couple). At home, I had a photo of them getting married pinned to my bulletin board that I had clipped from the Advocate (see below).  The photo included Gavin Newsom, San Francisco's charismatic, ultra pro gay mayor, who had presided over the wedding.  They were wearing these very pant suits that now had a place of honor in a museum.
Del died two months after the wedding.
HRC – Harvey's Shop
Then I wandered over to the HRC, where the Hyatt demonstrations had finally died down and I could get into the store. Inside, it was just a commercial pitch for the HRC with gimmicky souvenirs to buy; nothing to commemorate Harvey. I went outside and recognized the ledge at the storefront as the same one that Harvey had sat upon, so I sat down to be in the same spot.
I noticed a brass plaque with Harvey's likeness directly in front of me on the sidewalk, commemorating this place as the site of Castro Camera. A young, extremely skinny man with long hair, wearing shorts and a tank top  (the kind of tiny effeminate fellow who could never be mistaken for anything but gay), stopped and placed two red roses wrapped in white paper and ribbons on the plaque. The wind started to blow them away and someone brought him a few stones to weigh down the tender  bouquet. He couldn't have been more than 25 years old but he knew what Harvey had done for him.
Harvey would have been so happy today.
Happy birthday, Harvey! Your life was so meaningful!