Friday
Despite exhaustion, sleep is a bastard. My feet never do warm up. My body awakens at its normal time and I force myself back to sleep, over and over, until I feel rested enough to rise. It is sunny but I see residual snow from my window and I know I should get up and enjoy the weather while it lasts.
In the summer of 2019, another era, another decade, a more hopeful time, I first heard the phrase "gentleman jack" uttered at a media conference in Las Vegas and I was hooked. After devouring the eight episodes and learning that it was a true story, and that Shibden Hall still stood and was open to visitors, I knew I had to go. I'd never been to England, wasn't much of a traveler, had no travelling companion. But I was drawn, compelled, called to Halifax.
On Sept. 14, 2019, the Lightcliffe church tower where the plaque of Ann Walker's death is housed, mere meters from where her body is believed to be buried (she was just a spinster after all, a mad woman at that, so who cares where her actual remains lay???), was open to the public for the first time in 45 years, due, no doubt to the immense interest generated by the "Gentleman Jack" series. And so, I set my course to be there, from noon to three on that day. A good enough reason for Pilgrimage #1 to Halifax. In many ways, it felt like coming home (as Sarah Wingrove, University of Surrey, so aptly explained in her paper at the inaugural Anne Lister Society meeting this year). Visiting Halifax always feels like coming home to me.
Now, two-and-a-half years and a lifetime of once-in-a-generation events later (covid, insurrection, corrupt politics, war), I am back. This time I am staying in Hebden Bridge a short train ride away, after my first choice of reservation was cancelled (damn you, Imperial Crown!) and having heard much about this mythical lesbian village during Pilgrimage #1.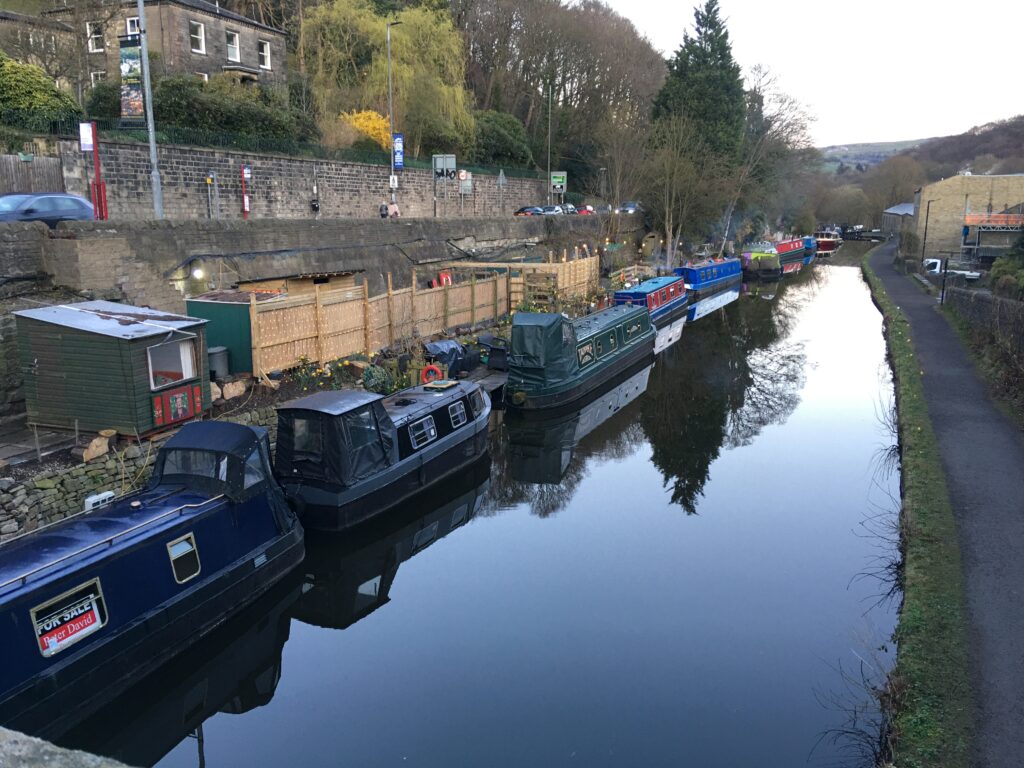 After ingesting as much coffee as my stomach can stand, I stride out the door of my B&B to explore. The first thing I see is the canal full of narrow boats. Hebden Bridge is ridiculously picturesque regardless of the weather but particularly in sunshine. I make my way to the train station, a walk that should take less than ten minutes but I stretch it out observing spring buds and blossoms, moss covered stone arches, narrow boats lined up and puffing smoke from cheery little pipes. I cross the Calder River on a green-frosted bridge, rushing water and fords below. A sight to stop and behold. I'm expecting hobbits and goblins and trolls along the way.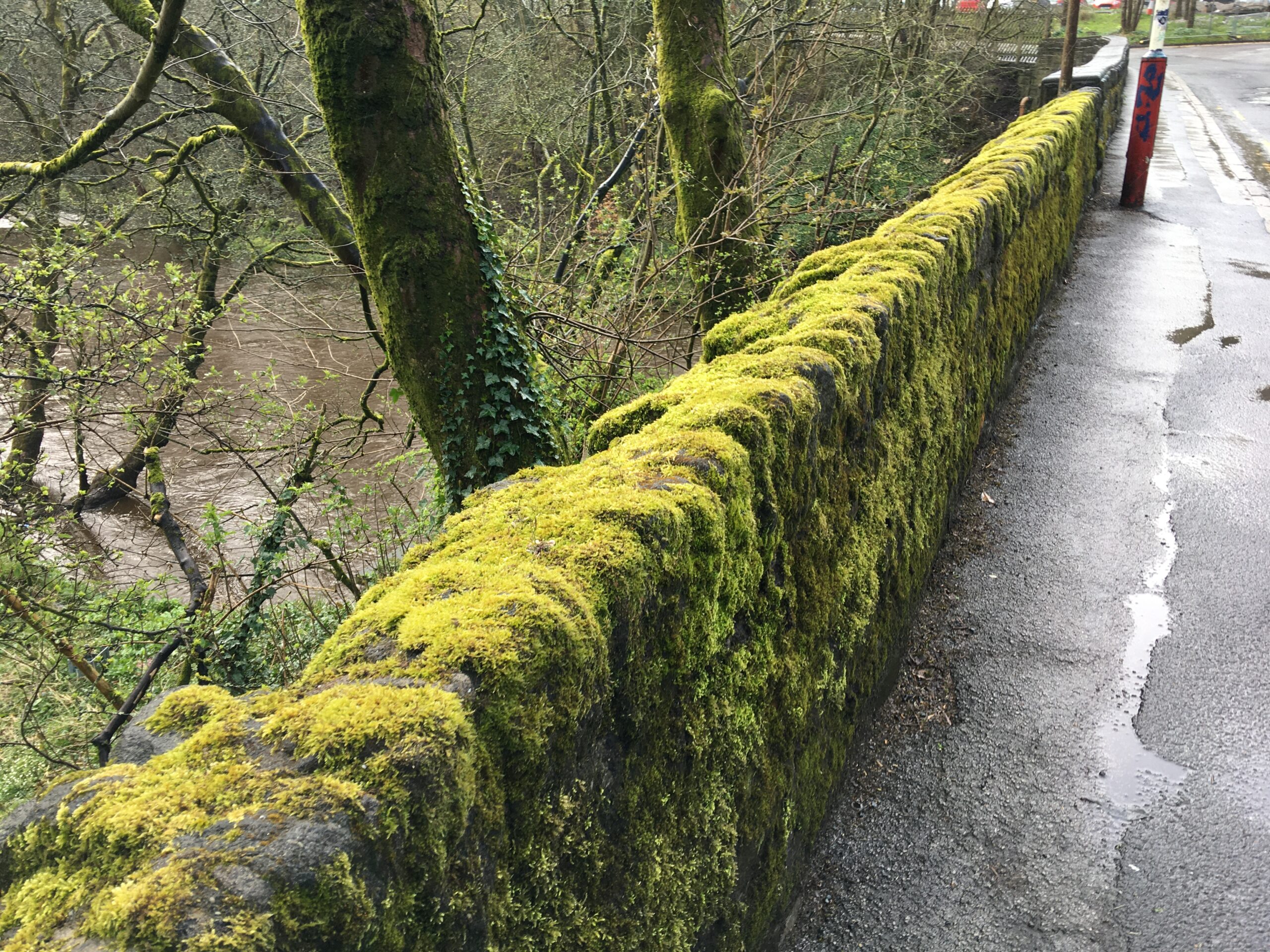 At the charming little train station (it HAS to be called charming or cute or adorable), a helpful woman approaches me, clad in the yellow vest of a Calderdale volunteer. Not a hobbit, then. These volunteers are sprinkled around Calderdale specifically to assist the hundreds of visitors here for the Anne Lister Birthday Weekend (ALBW). She guides me to the ticket counter where a kind fellow helps me buy a transit card that will give me passage to and from Halifax for the next two weeks, my primary transportation. The view alone on the ten-minute train route is worth the weekly cost of the transit card, £22. The track winds through the Calder Valley, following the river, diving through tunnels. Sheep and horses and rolling meadows abound on both sides. Hills and dales.
ALBW Solos Meet Up
I have one event scheduled for today, ONE, and I'm determined to stay awake long enough to make it. ALBW Solos are scheduled to meet at the Piece Hall, and I do make it, and so does Sally Wainwright! Surprise! She pops in to say hello to the group of us who have travelled alone from near and far to Halifax. She is a constant supportive presence throughout the week. (Oh Pat! We miss you!)
In the ALBW Solos meeting, I don't know anyone but I recognize faces and names from years of contact on Facebook. Such a delight to meet in person! And then, when the meeting ends, I walk past the registration desk at ALBW Central (Lister Sisters have taken over the Piece Hall for the week) and see Nik.
During Pilgrimage #1, I bonded with two people in our much smaller group of Listerites, and over the last 2.5 years, we kept in touch via Facebook—worried over the state of the world, over each other's health, over the delay of "Gentleman Jack." My dearest Lister Sisters! And Nik is one of them. She has no idea how thrilled I am to see her face, to hug her neck. Alive! Back home! At last!