Saturday
Again, sleep is a bastard. My body keeps waking, confused, wondering where I am and what time it is, wondering if I should be awake or asleep. Jet lag sucks even more when you are old. But today begins the whirlwind of events. In retrospect, I will rely on calendar entries, Facebook posts, and photos to remember what happened, and I shall relay only the most memorable highlights because, frankly, all of it was worthwhile. Every single smile, every dash through sleet and rain, every hunger pang when there wasn't enough time to stop and eat, every new introduction to a new face, every quick cuppa hot tea at Square Chapel. All of it…but I will begin with the diaries at West Yorkshire Archives.
Highlight #1
On this day, I have a 45-minute appointment to see an exhibit of Anne Lister's diaries. The five million words of her detailed diaries are the source of everything we are celebrating this week.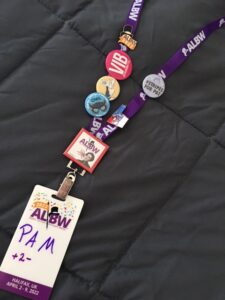 I'm wearing a lanyard that bears my name scribbled on an ALBW placard and half-a-dozen collected memorabilia pins. I will wear it every day, everywhere I go, we all do, but I have forgotten about it now and am amazed when the young woman at the door of the archives calls me by name and welcomes me. I laugh when she points at my nametag and then sigh as my glasses fog up in the warm archives, above my mask. "It's optional," she tells me as I gratefully remove my mask so I can see the precious diaries. Not knowing that removing my mask will soon no longer be an option as covid begins to strike our group. Covid-19; the monster that won't die…
The archive room is small, intimate, and proud archivists stand ready to answer any questions. Several diaries, I didn't count how many, border the room, lying open, restored, in glass cases. I round the room trailed by Jenny the archivist, who happily answers all my questions about each diary. I don't realize how affected I am by this display until I stand in the center of the room surrounded by Anne Lister's greatness and say, "Wow," as a tear appears and then tumbles down my cheek. Jenny touches my arm, says, "A lot of tears have been shed in this room." The other archivists nod in agreement. I am surprised to be so overwhelmed. For several minutes more, I stand there collecting my emotions, ask more questions, then leave, grateful…so grateful.
That evening, I have dinner with the ALBW Solos Supper club, arranged by Barbara. She has made dinner reservations for the next five nights for those of us lucky enough to be included. Otherwise, I most certainly would have starved. I know no one at the dinner table but that quickly changes. Before the night is over, I've been given three tickets to paid events I hadn't planned to attend (in my vain attempt to save money), and made grand new friends to spend time with. (Thanks Tor!)
After dinner, there is a special gathering at the Minster with Jill Liddington and Helena Whitbread, without whom, Anne Lister's legacy most certainly would have remained hidden in Halifax. It is also "stripes for Pat" night, and many of us wear striped shirts in a collective effort to send healing to dearest Pat. Quite the sight as "Flat Pat" makes her first appearance—and we're all ridiculously thrilled and sad at the same time.
Late train home to Hebden Bridge. It is freezing cold outside and sleet is kissing my face as I walk from the station to my B&B in the dark. Finally, I sleep.