Sunday
Highlight #2
Anne's 231st birthday. The day starts early and cold with a laying of flowers at the statue of Anne Lister at the Piece Hall. The statue, called "Contemplation" by Diane Lawrenson, is a recent addition, a near-life-size version of Anne that reminds me of a clothed, female version of Rodin's "The Thinker." Some of us feel the statue is too feminine to represent Anne Lister.
Sally Wainwright has called us here at 9:30 a.m., just as the sun breaks out for the only time this day, to lay flowers at the statue in remembrance on Anne's Birthday (since we don't actually know where Anne's remains are buried in the Minster). A few hundred of us gather and buy flowers from a flower cart brought into the Piece Hall for this occasion, and then Sally steps up to a microphone and reads a carefully prepared, long speech.
We are all astonished by her words, heads swiveling to one another with mouths agape. Can you believe she is saying this? Sally is literally reading the riot act to the Halifax Minster and its Vicar for not knowing, or caring, where Anne Lister is buried. Apparently, this is a long simmering concern about which nothing has been done, and Sally has had it. She does not mince words: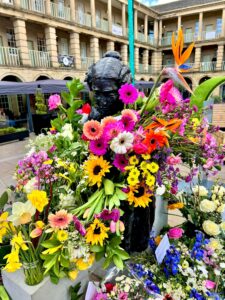 "It's not every day you discover that a global icon is buried in your church…. 'Anne Lister is buried here somewhere' isn't good enough."
This is not something I've given much thought to but as Sally delivers her articulate and passionate argument, I find I completely agree and share her anger.
For the remainder of the week, Anne Lister is covered with flowers that miraculously remain fresh in the cold and wet Yorkshire air.
Highlight #3
Next on my schedule is the "Code Breakers Show and Tell" in what has become our meeting room on the top floor of the Piece Hall, part of ALBW Central. I enter the room, shed my layers of winter gear, and see someone I have been hoping to see—my other Lister Sister from Pilgrimage #1—Liane. We see each other at the same time and run into each other's arms for a good long hug. Although we've kept in touch online, I've wondered if we would ever see each other again, if we would survive the world the way it has become. And here we are in Halifax, nearly three years later. Bonded by Anne Lister.
The code breakers presentation is a wonder. I have followed the work of these volunteers mostly via Liane, but am even more impressed to see them in person and hear them describe the joy they felt reading Anne Lister's crypt-hand. Two of the code breakers (the Pats) are from Arizona, less than twenty miles from where I live! We had to come all the way to Halifax on Anne Lister's birthday to meet! Can't wait to see them again…