Honestly, at this point, it all begins to blur together. I spend half a day at Shibden Hall, wandering through familiar rooms and grounds. Truly, it feels like coming home, fills me with such peace and a sense of belonging. I'm an American in the twenty-first century! I don't belong here! But it feels like I do, and I always miss Shibden, long for it. My computer screensaver at home is a gorgeous photo of Shibden Hall and I look at it every day and wish I was there…weird. (Apologies and thanks to whoever took this photo–wasn't me.)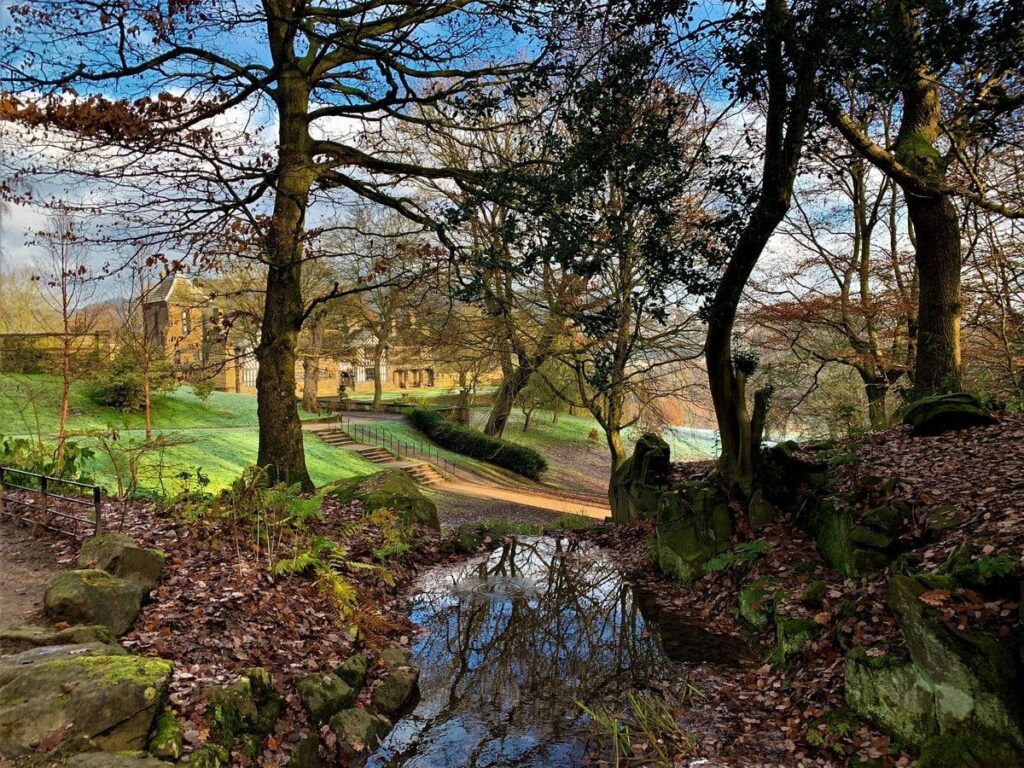 During the week, I struggle to find time or places to eat lunch, often settling for tea in the warmth of the Square Chapel where I meet lots of people to talk to, locals and attendees.
One day, my feet get so cold that I stumble into one of the stores on Wool Shops and shout, "Do you have any socks?" Then I buy a package of socks, plop down on the floor, peel off my boots, and put on a second pair of new socks over the pair I am wearing. We don't wear socks often in Phoenix, definitely not warm ones. The stunned saleswoman looks down at me sat on the floor and says, "Are you an American?" (Despite all my grousing about the cold, I'm enjoying the change of climate and the change of wardrobe. I've missed my boots and jackets and scarves! And socks…)
On 5 April, we're informed that one of our presenters has tested positive for Covid—just minutes before she was scheduled to lead a writer's workshop in the crowded room where I'm sitting. It's our first real reminder that the pandemic is still with us. Sadly, I retrieve my tired mask from my coat pocket and put it on, as do others around me. We're back to social distancing and masks for the duration. Positive tests begin to be reported. I packed seven Covid tests in my backpack for the trip, hoping I would only need one. Most of us are testing daily now.
Highlight #4
6 April 2022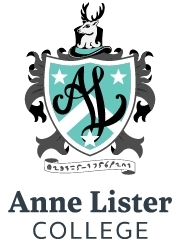 An evening film festival at the Square Chapel premieres two documentaries about Anne Lister. The first is produced by students of the newly-minted Anne Lister College at York University. The second is a BBC production about which we've been sworn to secrecy—but it was smashing! The producers, directors, stars, etc., of both films are in attendance and give a riveting Q&A afterwards. As someone who studied filmmaking in college and created a few documentaries of my own, I LOVE this experience!
As a bonus, afterwards, I am waiting on the freezing cold platform of the Halifax train station for my late train when I hear a bunch of kids come down the stairs, screaming and laughing. My head is jammed into the hood of my jacket seeking warmth, so I don't turn to look until the noise continues. Finally, slightly annoyed at the disruption, I do look—and it's the students from York University who created the documentary! They are excitedly discussing the audience's reaction and questions, and after a moment I wander over to them and say, "Oh hello, I was just eavesdropping. I was in the audience tonight." What follows are several minutes of excited questions and exchanges, and my own personal Q&A as we wait for our trains. They are interested in my take as an American. What an uplifting treat!