Highlight #6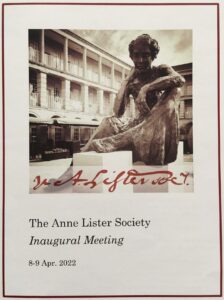 Best for last. On the final two days of ALBW comes the inaugural meeting of the Anne Lister Society, coordinated by Laurie Shannon, professor of English Literature at Northwestern University (this woman is everywhere this week!). For this inaugural meeting, a group of academic scholars convene to present papers dedicated to the study of Anne Lister. Academic papers to be published by actual scholars from actual universities, taking Anne Lister—her diaries, her impact, her contribution to history and literature—very, very seriously. Imagine that. As a pseudo-academic with a couple of graduate degrees, I love this! And I learned so much about Anne Lister, became even more fascinated and curious about her.
From the Anne Lister Society website:
"The Society aims to foster knowledge of Lister's extraordinary life and writings and to interpret her legacy. It seeks to sustain conversation among scholars and to build conversations between scholars and Lister's wider readership and expanding network of invested enthusiasts. By encouraging research and greater understanding of her way of inhabiting the world, the Society aims to amplify Anne Lister's place — both in the cultural tradition and for the future." https://english.northwestern.edu/about/anne-lister-society/als-inaugural-2022.html
I can think of no better honor for Anne Lister, the consummate student, than this society of scholars and the recent establishment of Anne Lister College at York University. I so look forward to this ongoing research. What would Anne Lister think? Hmmm….