I'm embarrassed to admit that before today I didn't know who Penny Taylor was. I was joining friends for my first Phoenix Mercury basketball game at Talking Stick Arena and when I got there, the first thing I saw — everywhere– were T-shirts, banners, and video screens blaring "Thank you Penny." The phrase was so prevalent that at first I thought nothing of it… perhaps this was a Mercury ritual, some fan schtick the home crowd indulged in for good luck. Penny Taylor. Penny Taylor. Thank you Penny.
Heading into our box seats, the usher handed each of us a rally towel, a game souvenir. I glanced at it briefly while thanking him. It read, "Retirement Ceremony. Penny. July 9, 2017."
Ah, I thought, some old player or head office type is retiring. Ok.
From my seat, the giant digital boards on the court and around the perimeter of the arena blinked furiously with all manner of info about each Mercury player. Interspersed at every opportunity was "Thank you Penny!" The announcer revving up the crowd reminded everyone to stick around after the game for the special retirement ceremony for Penny Taylor. The crowd went wild. I mean, WILD, when he said that.
This night was all about Penny.
"Good crowd," one of my friends said. "Maybe it's the Penny thing."
None of us knew Penny but clearly, everyone else in the arena did. Every straight and gay couple, every little boy, every little girl, every senior citizen, every gray-haired lesbian, every white-haired grandma and grandpa, every ordinary Joe and Jane. And there were lots of them.
At halftime, artist David Garibaldi came out onto the court and in the space of 8 minutes, did the most amazing work of performance art I've ever seen. He painted live with broad vibrant strokes on a 5' x 5' canvas (while being accompanied by rap music and occasionally rapping along with the music) a larger than life portrait of, you guessed it, Penny. It was truly astonishing.
"Who is Penny?" I finally asked. My friends shrugged. "We should look her up." So
one of my friends pulled out her phone and googled Penny. Her eyes went wide and she handed me the phone.
Ohhhhhhhh. As you probably know, Penny Taylor was one of the star Mercury players who led the team to three WNBA championships in the last 10 years. And she played in the Olympics for Australia, twice. And she was recently married to Diana Taurasi, who, as everyone knows, still plays for the Mercury and is the greatest female basketball player of all time. Ohhhhhhhh…….
So there was Diana on the court all evening, being Diana Taurasi and kicking butt. And there was Penny on the sideline, long blond hair up in her signature pony tail, dressed in a black cocktail dress and heels, watching. Not playing, because she is retiring.
The Mercury beat the New York Liberty team, by a lot. And then it was time for the ceremony. About a dozen chairs were set up on the court and they filled with Mercury players, men in suits, and women in dresses. Penny sat there too. Tall, slender, lovely Penny – the epitome of feminine athleticism and class. During the 45-minute ceremony, I saw video footage of Penny's long long list of accomplishments, on and off the court. I heard several basketball dignitaries, revered coaches and players, stand on the court and sing her praises. The Mercury presented Penny with the portrait the artist had created at halftime, a framed jersey from her last championship, and a $10k check to the American Cancer society in honor of her parents (who have passed on, perhaps from cancer…. I'm not sure because, honestly, I don't know much about Penny Taylor).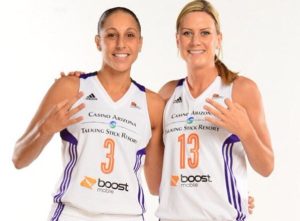 The next-to-the-last speaker was Diana herself, Mrs. Taurasi-Taylor (or Taylor-Taurasi?). She spoke off the cuff but still eloquently, about the beautiful woman named Penny (who, by now, I was completely in love with, too). And then she snuck this in: "By the way, we're married now. Happily." The crowd went WILD, and I mean wild for several minutes after she said this. The entire crowd of straight and gay and old and young and democrat and republican and muslim and baptist – CHEERED. They cheered because two women, two beautiful women, were married and loved each other. Wow. This is PHOENIX. ARIZONA. Diana ended her remarks by looking over at her wife and saying, "I love you, baby." In public. Out loud.
Penny finally addressed the adoring crowd, which, as I said, now included me. She took her time, wanting to thank a long list of people who had helped her on her basketball journey. She told Diana what an honor it had been to play basketball on the court with her, one of the greatest basketball players of all time, and said "I love you" to her. Out loud. In public.
In closing, she spoke nervously from the heart about something that clearly weighed heavily on her. I'm paraphrasing since I took no notes, but it was something like this:
"Regardless of the politics of the day, if we can all just be kind to one another and have compassion, I think we can make the world a better place."
And then they retired #13, Penny Taylor's number, and unveiled a banner from the ceiling with her name, alongside the few names of other women who have played professional women's basketball long enough to retire.
Two words stood out to me as people described Penny during the ceremony: fierce and compassionate. There stood Penny, lovely, in love, accomplished and kind, imploring us all to be kind and compassionate with one another. And everyone in that arena applauded wildly.
The world needs more fierce women who show compassion. We have enough fierce men, too many fierce men, who don't understand the meaning or need for compassion. The world needs more women like Penny Taylor.
I'm embarrassed to say I didn't know who Penny Taylor was. But I do now.