I have recently returned from my second pilgrimage to Halifax, UK, and I'm struggling to describe the experience. As jet lag fades, I'm overwhelmed with the memories and I want to document them all. There is so much to say. If you're a fan of Anne Lister or Gentleman Jack, you will understand what I'm saying. If you're not, well, then I feel sorry for you because my life has been immeasurably enriched in the last three years by this immersion into "Listerhood."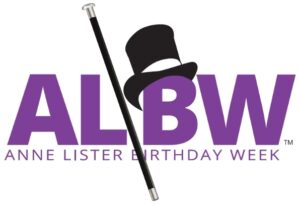 The event I just attended in Halifax was the long-awaited, twice-cancelled-by-covid, Anne Lister Birthday Week (ALBW). It was the dream of one Pat Esgate, an early queer pilgrim to Halifax in the summer of 2019 after the premier of "Gentleman Jack," the HBO/BBC television series. There is much to say about this, but I'll try to condense:
Anne Lister was born in Halifax on April 3, 1791.
Pat's enthusiasm for the city of Halifax, for Shibden Hall, and for Anne Lister made her into an evangelist for this little-known history.
Popular Facebook groups and podcasts sprang up in response to the television series–as Pat called it, "a social media tsunami."
Pat and a team of eager volunteers began to plan a gathering of fans to celebrate Anne Lister's birthday on April 1-5, 2020, in Halifax. But sadly, we know what happened next—a global pandemic.
Deeply disappointed, Pat did what we all did at that time; took her venture online in a series of videos. And thus ensured its existence.
The ALBW videos were created in response to the pandemic and streamed live on Facebook. The videos were educational (and a little corny) with well-produced interviews conducted by Pat who always wore the same blue-striped shirt. An array of relevant guests volunteered their time to this online venture, from Sally Wainwright (writer, producer, director of "Gentleman Jack") to Suranne Jones to Helena Whitbread. To date, 33 videos are available on Facebook.
For two years, as the pandemic dragged on, Anne Lister fans watched these videos in rapt attention, hungry for any and all information about this remarkable woman as we awaited season two of our beloved "Gentleman Jack," also maddeningly delayed by covid.
April 1-9, 2022, ALBW
Finally, on April 1-9, 2022, ALBW occurred in Halifax. Although bedeviled by covid (an outbreak among attendees made testing a hot topic) and cold rainy weather, ALBW was simply one of the most organized, well-run events I have ever attended. A huge success, food for the hungry souls of Lister Sisters. The irony and the agony was the absence of Pat herself, who was diagnosed with breast cancer just weeks before ALBW, and began undergoing cancer treatment. But her presence was always felt (not least because of the life-sized cardboard cut-out of Pat herself that kept turning up at events).
The other obviously missing person was Rev. Jane Finn, Curate at the Halifax Minster. Rev. Finn was an ally and an anchor for wary lesbians from around the world who made their way to the 900-year-old church to visit the place where Anne Lister was baptized, worshipped regularly, and was buried. Rev. Finn "provides pastoral care, dealing with pilgrims who don't even know why they've come." In September 2019, I was one of those pilgrims, afraid to enter the Minster, fearing the rejection of the church I've experienced my entire life as a lesbian. Instead, Rev. Finn, and frankly all the Minster volunteers, warmly welcomed thousands of us. She was reassigned to a church in Wales just before ALBW, having served her time at the Minster, much to our disappointment (and a bit of suspicion).
And so, with as little background as I can manage (entire books, news articles, websites, college courses, and even a college in York are available for more information), here is the travelogue for my second queer pilgrimage to Halifax, UK.
NOTE: This travelogue has become quite a bit longer than I expected but I will follow Anne Lister's example in writing "a detailed account so that I may enjoy it when I am old" (paraphrasing…can't find the exact diary entry). Sadly, Anne didn't live long enough to enjoy her diary in her old age but thankfully, we have been able to enjoy it. So, I leave this account for posterity, if nothing else.
Click the ALBW menu above to see each day, or forge ahead to day 1.
These opinions are mine alone.